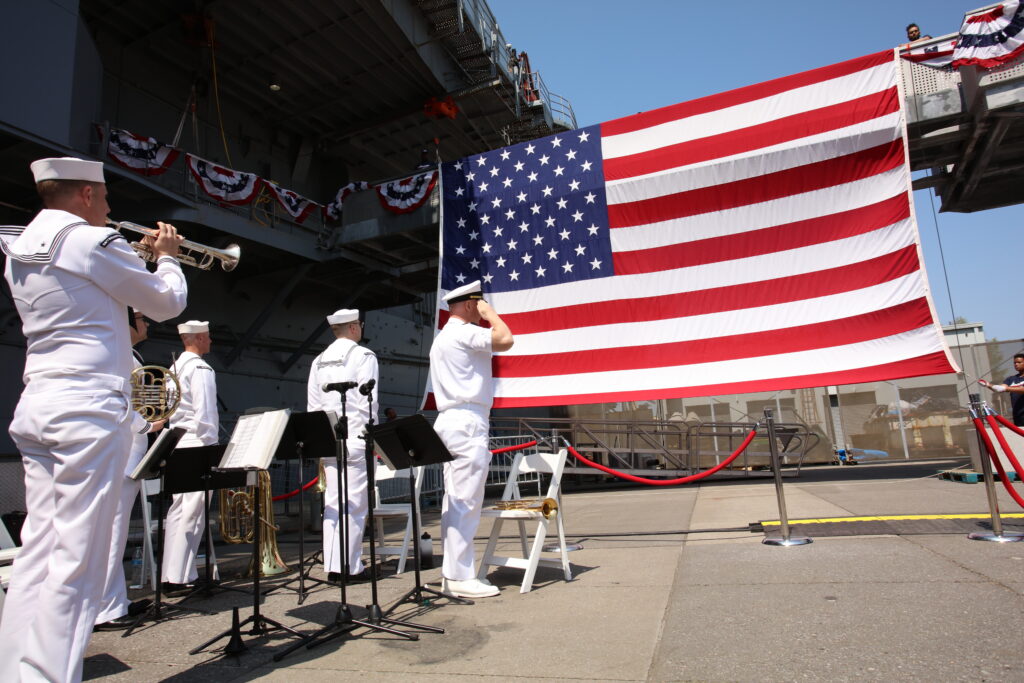 By Amanda Moses
Elected officials, veterans, active service members and their families honored the men and women who have passed away while serving in the United States Military during the Annual Memorial Day wreath laying ceremony on the Intrepid Sea, Air & Space Museum—located at Pier 86 (46th Street and 12th Avenue).
Often called the ultimate sacrifice, those who've perished while serving in the United States Armed Forces were given a final salute on May 29th where hundreds of onlookers watched in somber respect as the US Naval band performed "God Bless America" and other reverent tunes. In addition to current military members, the ceremony invited the veterans who once served on the USS Intrepid in the 1960s.
The ceremony included remarks from Mayor Eric Adams, Intrepid Museum President, Susan Marenoff-Zausner, the Commander of U.S. Fleet Forces Command ADM, Daryl Caudle, and others who emphasized that those in the military service provided the blanket of freedom for which Americans are protected.
Four wreaths were tossed into the Hudson River by dignitaries, members of the armed forces, and veterans in remembrance of those lost. There was also an aircraft flyover called "Missing Man" by aircrafts from VFA-81, and VFA-11.
The event concluded with an enormous American flag being unfurled as the US Naval band performed Echo Taps.
Photos by Amanda Moses