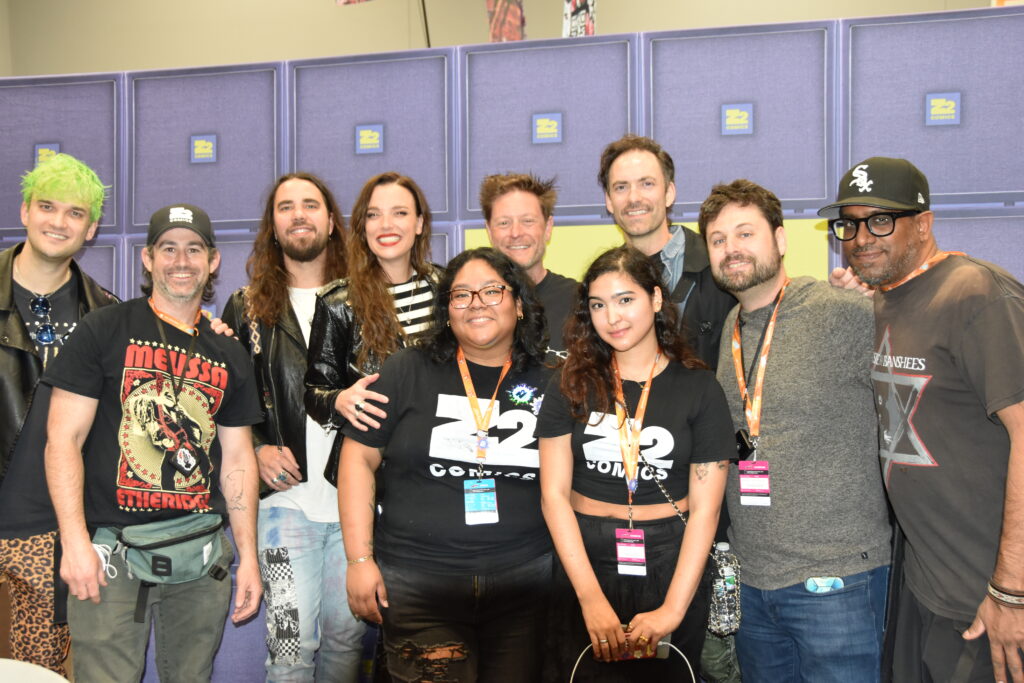 By Amanda Moses
Heavy metal band Halestorm joined forces with Z2 Comics to create a harrowing graphic novel loosely based off their lives, which also comes in tandem with the 10th anniversary of their 2012 EP "Hello, It's Mz Hyde."
Oscar Wilde once said, "Life imitates art far more than art imitates life," and that may just be the case for Z2 Comics' latest outing, showcasing a bizarre graphic novel where Halestorm encounters all sorts of mayhem while working on their latest album in a secluded home off of the Oregon Coast.
In October at New York Comic Con (NYCCC)—held at the Jacob Javits Convention Center—the band consisting of lead vocalist, Lzzy Hale along with her bandmates Arejay Hale, Joe Hottinger, and Josh Smith shared that they were taken aback by how eerily accurate the stories were.
"It was a lot of fun because there is a lot of humor in what goes into us. That's who we are: Rock and Roll with a smile. The scarier thing is that there is a little bit of truth in a lot of this story," Lzzy Hale said.
"We were like guys 'How did they know,' I felt like that deep down inside. It's exaggerated caricature of normal stuff we do on a daily basis," Arejay Hale said.
"We were like that actually happened," Lzzy Hale added.
Hyde Manor was a place they thought would be a haven for artistic refuge to record their new album; however, it transforms into a prison of darkness as the members slip slowly into insanity. Walking through the estate, the band encounters mirrors that spew sordid prophecies, many of which are reflective of Halestorm's discography. Hyde Manor, created by twins Brittany and Brianna Winner (the Twin Soul series), artist Sara Scalia, cover artist Alison Sampson, and colorist DJ Alonso is the perfect all-encompassing tale of Halestorm's music and band's esthetic.
"We started with a guideline like here is all of our videos, here is thematically how we've gone through our records we'll start there," Lzzy Hale said. "We started equally throwing pieces of the puzzle in the pile just trying to see what I wanted to do."
Like the heavy metal lyrics found in Halestorm's musical repertoire, Hyde Manor is an artistic depiction of experiences the band has faced and outlines their rich history.
"I was reading it like it was a bedtime story," Lzzy Hale joked.
"It really captured who we are and how they sort of packaged our songs and our ideas all together it's pretty wild," Josh Smith said.
"It's kind of like inspiration art feeds art and inspiration becomes full circle because we were talking that we spent a few months in the studio, and we were talking while all in a house together. We were like 'Oh my God' we are living out this [story.] Maybe I should be looking at this graphic novel like this is the launch for the next album," Lzzy Hale said.
While Halestorm has not officially announced when their next album will drop, they are working on music and touring in Eastern Europe.
Fans can pick up their copies at Z2comics.com