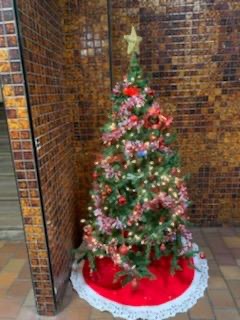 By Amanda Moses
The winter holidays have come and gone, but what remains is the jovial spirit of Spring Creek Towers' (SCT) residents through the Spring Creek Tenants Association's (SCTA) annual deck the halls extravaganza. In keeping with the festivities, residents have adorned their lobbies with Christmas, Hanukkah, Kwanzaa, and Three Kings' Day decorations.
During this holiday season, the SCTA invited members of the community to spread good tidings by transforming their lobbies into a winter wonderland, creating festive efforts that help to strengthen neighborly bonds.
"We would like to thank the residents in all the buildings that participated in the holiday lobby decorations. You gave us the incentive to keep up the spirit of the season, with much needed life, love of community, neighbors and self. Looking forward to a brand-new future with positive reasonable, solutions that enhance everyone's quality of life through strength and unity," SCTA Executive board said in a letter.
If you would like to learn more about SCTA, please visit their website at: https://starrettcitytenant.wixsite.com/thesite
Photos courtesy of SCTA