April 5, 2023
Attn: All Residents
RE: Balcony and Window Hazards

Management/Maintenance observed the following hazards on balconies and windows:
• Balcony enclosures and screens
• BBQ grills and propane tanks
• Bikes hanging over rails and E-Bikes
• Satellite dishes and electrical lighting or equipment
• Car tires and clothing
• Use of balcony as storage

SPRING CREEK TOWERS RULES AND REGULATIONS ATTACHED TO AND MADE A PART
OF LEASE IN ACCORDANCE WITH SECTION 13 states:
1. No alterations, additions or improvements to the balconies or terraces of the demised premises, including but not limited to the painting thereof, the installation of screens or other
enclosures thereon, or otherwise, shall be made without Landlord's prior written consent.
4. No awnings, aerial or other projections shall be attached to the outside walls of the building or to the balconies or terraces, and no blinds, shades or screens shall be attached to or
hung in, or used in connection with, any window or door of the demised premises without the
prior written consent of the Landlord.
8. The laundry and drying apparatus of Landlord shall be used in such manner and at such times as Landlord may direct. Tenant shall not dry or air clothes on the roof, balcony or terrace.
11. No garbage cans, ice, milk bottles, mats or other articles shall be placed in the halls or on the staircase landings, nor shall anything be hung from the windows, terraces or balconies, or
placed upon the window sills. Nor shall any linens, cloths, clothing, curtains, rugs or mops be
shaken or hung from or on any of the windows, doors, balconies or terraces.

Management does not provide permission for any of the above guidelines. Please remove all
hazards immediately to avoid a public safety incident, lease violation and/or legal proceedings
to terminate signed lease agreement with Spring Creek Towers. You may reach our Call Center
at 718-240-4646 for more information.
Thank you for your cooperation,
Twin Pines Management
A5 Elevator Cab B shut down
Elevator Cab B Repairs
Residents of A5
Ref: Elevator Cab B Shut down
Due to an emergency repair needed Cab B elevator will be
taken out of service until further notice while repairs are
made.
We apologize in advance for any inconvenience and will
have the elevator restored as soon as possible. Thank you
for your patience. Cab A will remain in service.
Please contact our call center @ 718‐240‐4646 for any
emergencies.
H6 Annual Hud Inspections
Dear Residents of H6
Updated
H6 Annual Unit Inspections will occur April 10, 2023 – April 13, 2023
Our Apartment Inspector Hakeem Johnson will conduct these unit inspections by knocking
on all doors.
Floor and Date schedule as follows:
 11th through 8th floors on April 10
 7th through 4th floors on April 11
 3rd through 1th floors on April 13
In the event you are unavailable during the above schedule please contact the Call Center at
718‐240‐4646 to schedule your appointment for the Annual Inspection.
Scheduled appointment times are:
 Monday and Friday between 9:00am – 5:00pm
 Evening hours available on Tuesdays and Thursday between 9:00am – 7:00pm
 Saturday hours are 10‐1 on April 15
Generally, an inspection should take approximately 10‐20 minutes per apartment.
As an occupancy requirement it is mandatory that you complete your annual inspection.
Once your Annual Inspection appointment is scheduled, please make certain a responsible
adult over age 18 years old is able to provide access. If you have a service animal, please
make sure to keep the animal is leashed. Please ensure all bedroom doors and closet doors
are open at time of inspection.
Thank you for your cooperation.
Management
A&B Section Potential electrical interruption 4-13-23
To All Residents in A&B Section
(A1, A2, A3, A4, A5, B1, B2, B3)
Due to required electrical maintenance, you may experience a brief interruption in power on Thursday April 13th, between 4:00 AM and 6:00 AM.
As a precaution we recommend powering off sensitive electrical equipment prior to 4:00 AM. Each elevator will be recalled to the first floor prior to work beginning.
We appreciate your patience during this process.

Thank you.
SCT Management
A&B Section Potential electrical interruption 4-13-23
April 11th, 2023
To All Residents in A&B Section
(A1, A2, A3, A4, A5, B1, B2, B3)
Due to required electrical maintenance, you may experience a
brief interruption in power on
Thursday April 13th, between 4:00 AM and 6:00 AM.
As a precaution we recommend powering off sensitive electrical
equipment prior to 4:00 AM.
Each elevator will be recalled to the first floor prior to work
beginning.
We appreciate your patience during this process.
Thank you
SCT Management
D4 Potential Electrical Interruption
April 12th, 2023
To All Residents in D4
Due to required electrical maintenance, you may experience a
brief interruption in power on
Thursday April 13th, between 4:00 AM and 6:00 AM.
As a precaution we recommend powering off sensitive electrical
equipment prior to 4:00 AM.
Each elevator will be recalled to the first floor prior to work
beginning.
We appreciate your patience during this process.
Thank you
SCT Management
H7 Annual Apartment Inspection
April 13, 2023
Dear Residents of H7
Updated
H7 Annual Unit Inspections will occur April 17, 2023 – April 20, 2023
Our Apartment Inspector Hakeem Johnson will conduct these unit inspections by knocking
on all doors.
Floor and Date schedule as follows:
 11th through 8th floors on April 17
 7th through 4th floors on April 18
 3rd through 1st floors on April 20
In the event you are unavailable during the above schedule or have any other maintenance
repairs needed please contact the Call Center at 718‐240‐4646 to schedule your
appointment for the Annual Inspection.
Scheduled appointment times are:
 Monday and Friday between 9:00am – 5:00pm
 Evening hours available on Tuesdays and Thursday between 9:00am – 7:00pm
 Saturday hours are 10‐1 on April 22
Generally, an inspection should take approximately 10‐20 minutes per apartment.
As an occupancy requirement it is mandatory that you complete your annual inspection.
Once your Annual Inspection appointment is scheduled, please make certain a responsible
adult over age 18 years old is able to provide access. If you have a service animal, please
make sure to keep the animal is leashed. Please ensure all bedroom doors and closet doors
are open at time of inspection.
Thank you for your cooperation.
Management
F3 Exhaust Shaft Refurbishment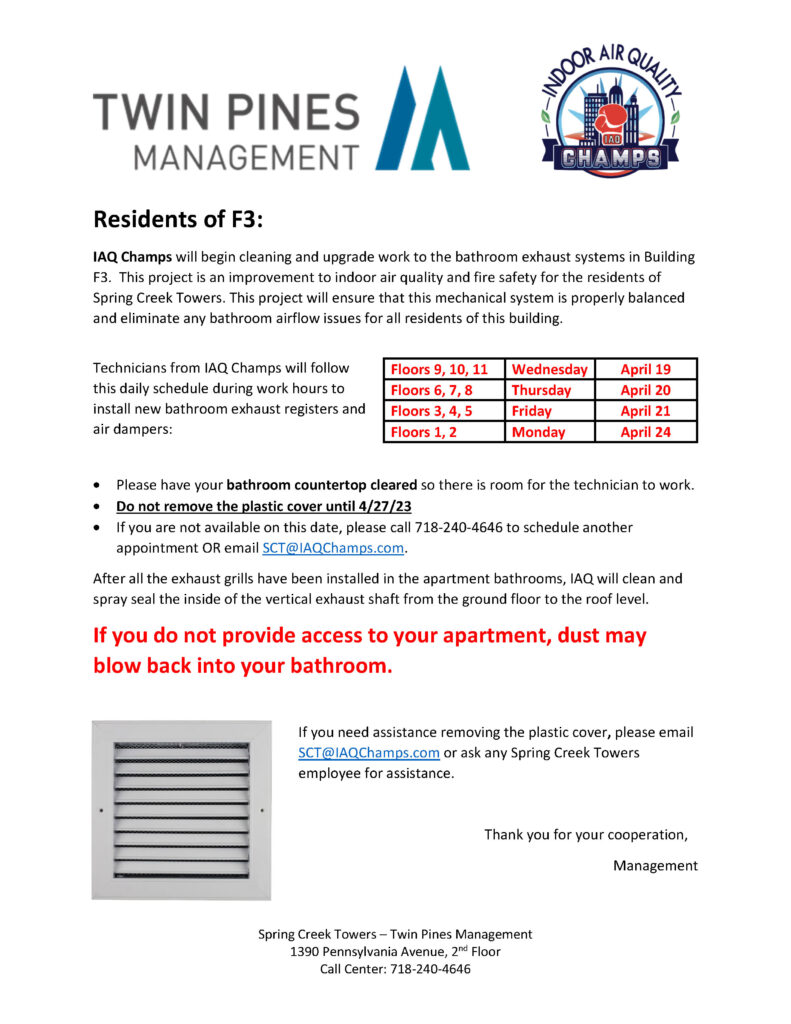 A1 Annual Unit Inspections
April 19, 2023
Dear Residents of A1
Updated
A1 Annual Unit Inspections will occur April 24, 2023 – April 28, 2023
Our Apartment Inspector Hakeem Johnson will conduct these unit inspections by knocking
on all doors.
Floor and Date schedule as follows:
➢ 20th through 17th floors on April 24
➢ 16th through 13th floors on April 25
➢ 12th through 9
th floors on April 26
➢ 8
th through 5th floors on April 27
➢ 4
th through 1st floors on April 28
In the event you are unavailable during the above schedule please contact the Call Center at
718-240-4646 to schedule your appointment for the Annual Inspection.
Scheduled appointment times are:
Monday and Friday between 9:00am – 5:00pm
Evening hours available on Tuesdays and Thursday between 9:00am – 7:00pm
Saturday hours are 10-1 on April 29
Generally, an inspection should take approximately 10-20 minutes per apartment.
As an occupancy requirement it is mandatory that you complete your annual inspection.
Once your Annual Inspection appointment is scheduled, please make certain a responsible
adult over age 18 years old is able to provide access. If you have a service animal, please
make sure to keep the animal is leashed. Please ensure all bedroom doors and closet doors
are open at time of inspection.
Thank you for your cooperation.
Management
F3 Exhaust Shaft Refurbishment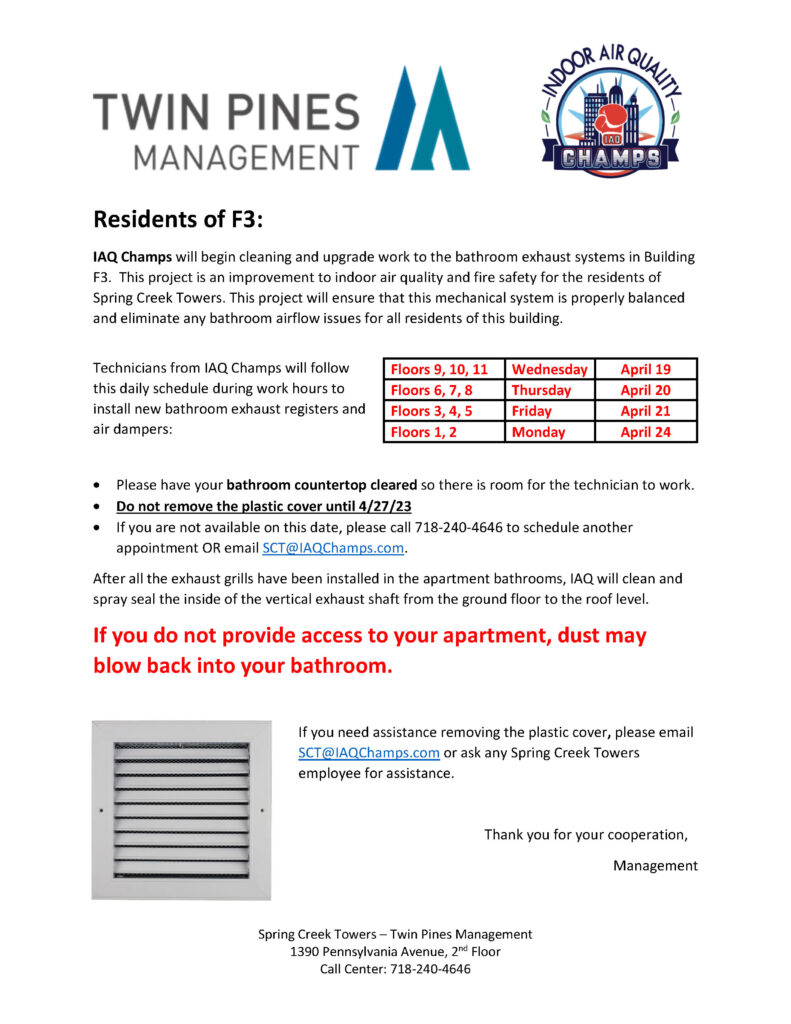 G5, G4 and G3 Laundry Room Open House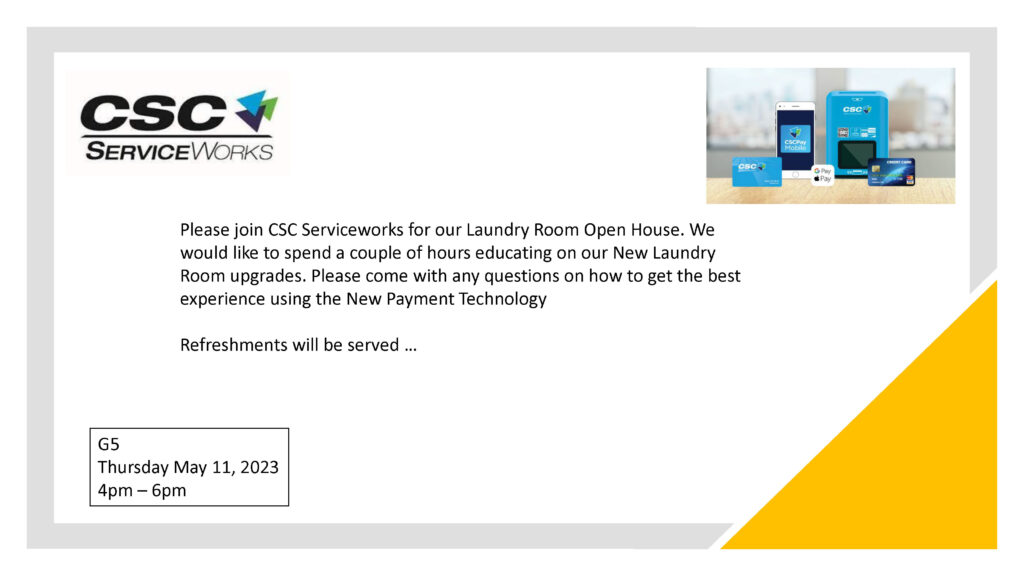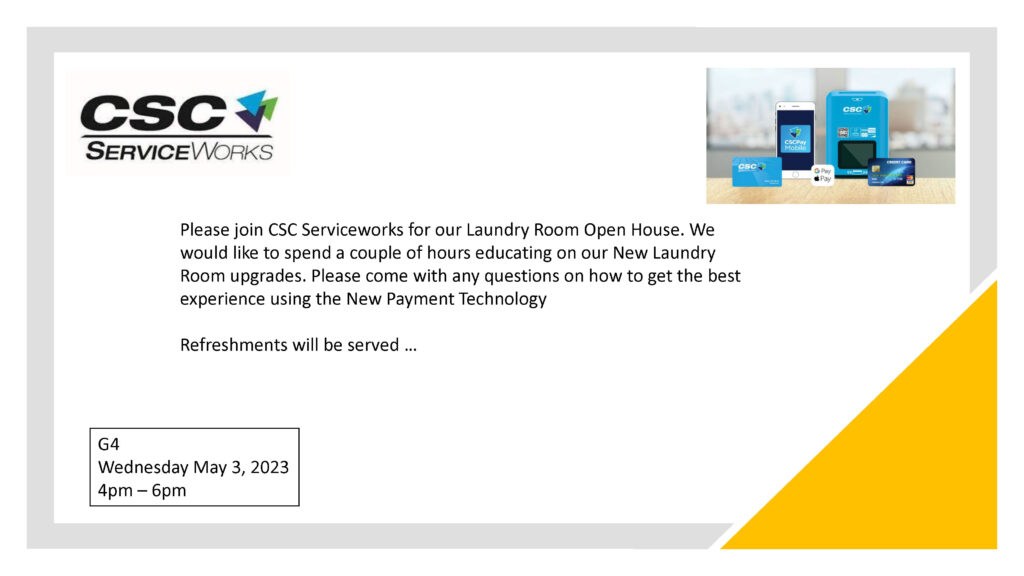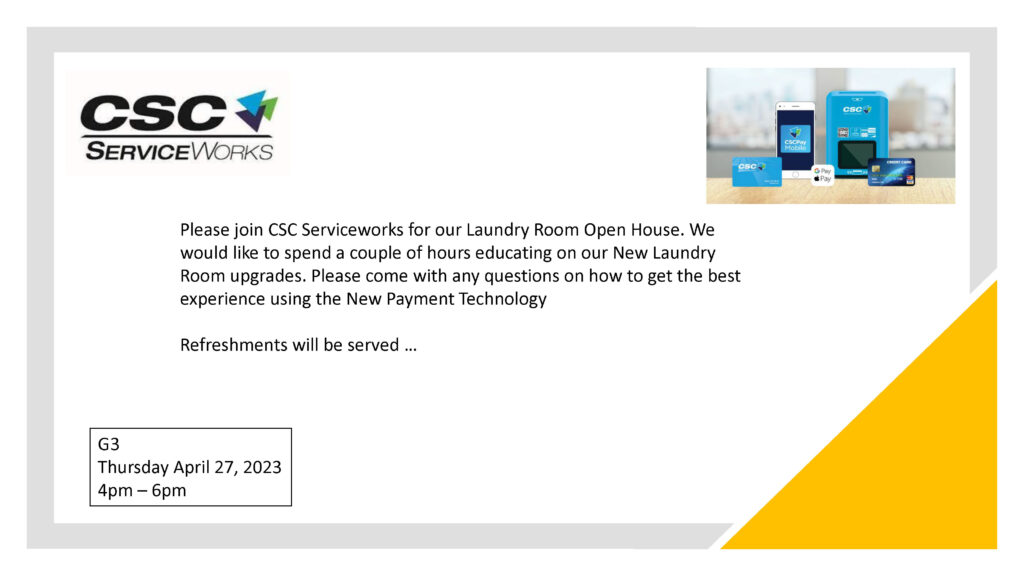 A1 Annual Unit Inspections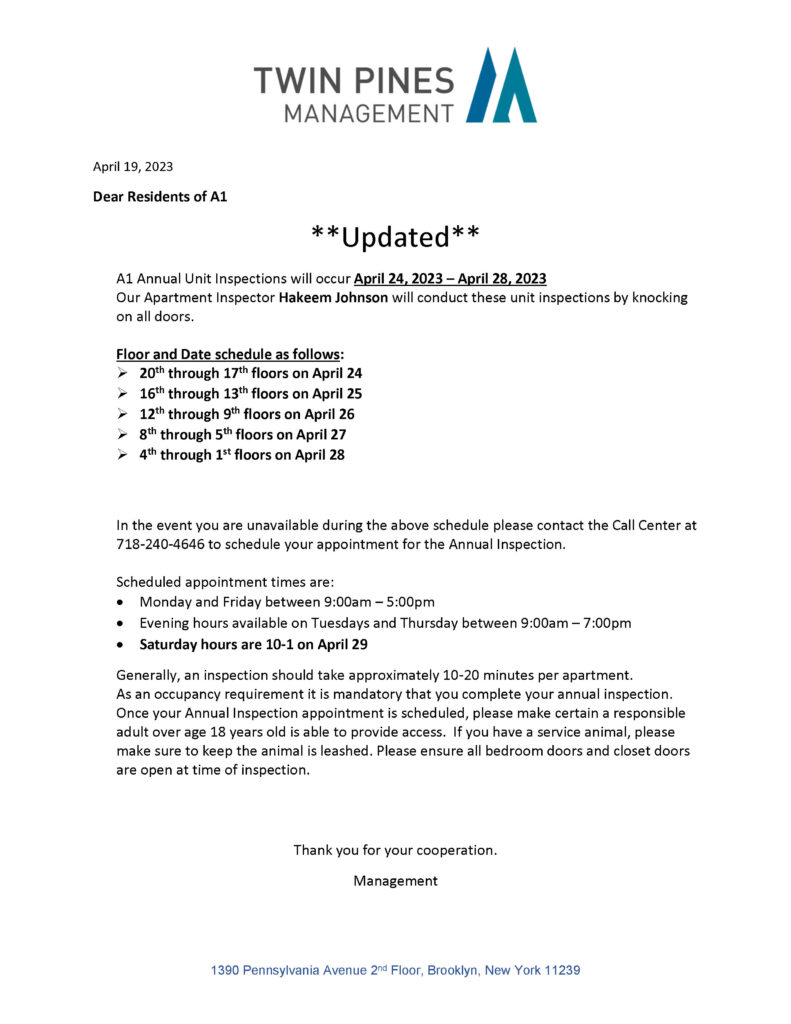 F4 Exhaust Shaft Refurbishment