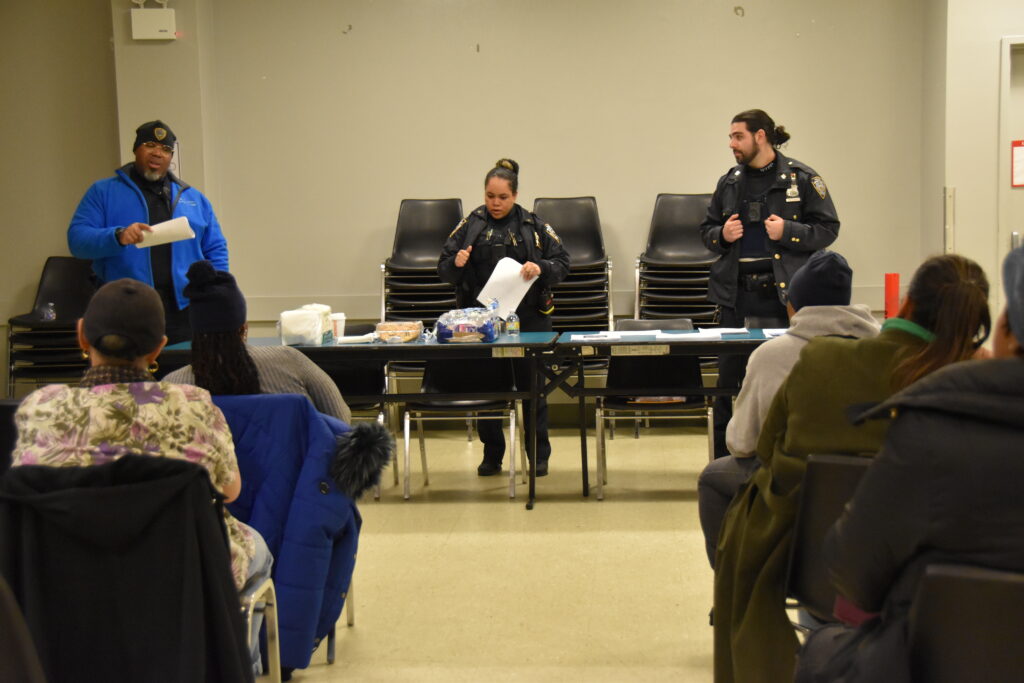 By Amanda Moses
On March 30th, members of the NYPD's Neighborhood Coordination Officers (NCOs) from the 75th Precinct hosted a "Build the Block" meeting in the lower level of the Brooklyn Sports Club (BSC) to help close the divide between police officers and the community.
"Build the Block" is an initiative developed by the NYPD to discuss neighborhood safety as well as cultivate a relationship between local police officers and the community members they serve. Spring Creek Towers (SCT) is a part of the 75th Precinct's coverage district, so local NCOs Detective Artemisa Caceres and Officer Nicholas Rossides decided to host their monthly meeting at the BSC so that residents can identify public safety challenges, discuss potential solutions, and share information of safety.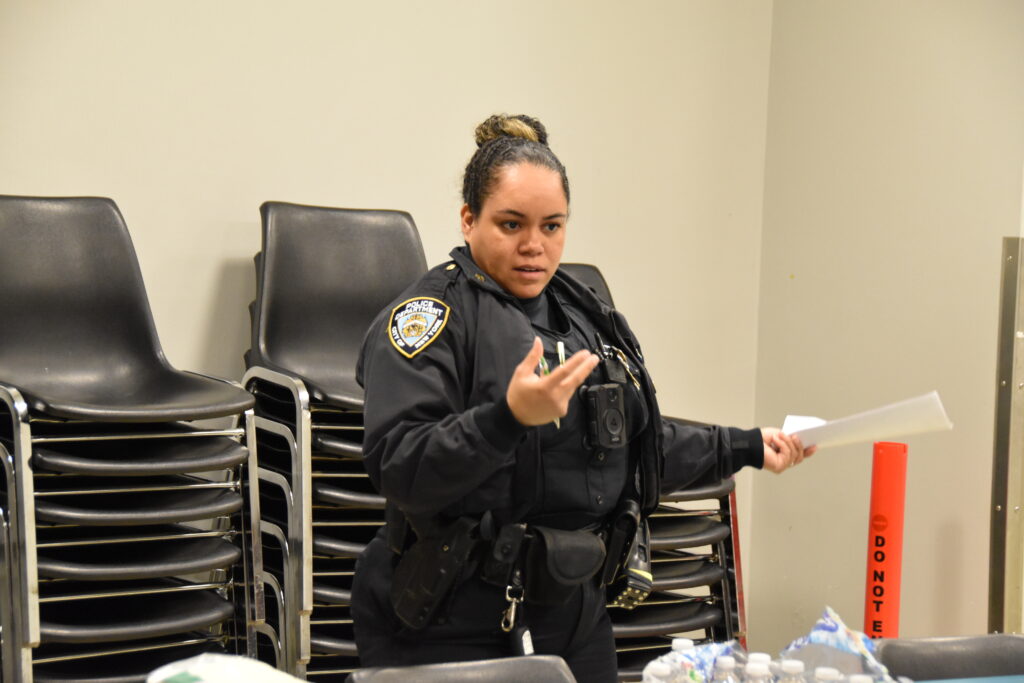 Det. Caceres and Officer Rossides have been working on becoming more involved with the residents of SCT by hosting discussions with local senior and youth groups all in an effort to improve trust, collaboration and encourage individuals to voice their concerns.
One issue, Detective Caceres brought up during the meeting is being aware of scams, both over the phone and in-person. Scam callers seek to put an individual in a situation where they are fearful of a consequence, for example debt, an arrest, issues with the IRS, etc.  They prey on your fears, but it's important to keep a level head and notice key suspicious signs that help you identify a scam caller.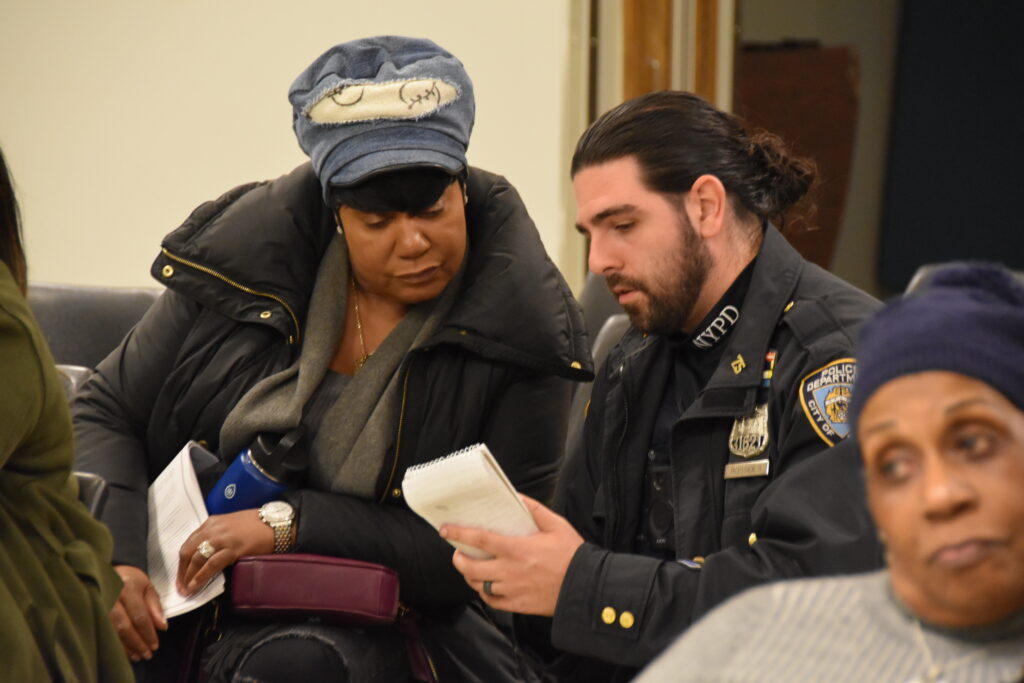 Officer Rossides shared that he received a scam call himself where a caller said there was a FBI warrant out for his arrest and I needed to pay $500. Of course, as a trained officer, he knew this was not true and immediately notified that scam caller that he is a member of the police. At that point the caller hung up.
"I got a call from a scammer that said they are the FBI; they said, 'You got to pay $500 otherwise you're gonna get arrested.' They try to prey on innocent people that might not know the ins and outs of this, so if you get a weird phone call, just hang up and block them," Rossides said.
Another scam is getting a call that a family member has been arrested and bail must be paid (particularly by gift card). Detective Caceres advises that in these cases it's important to understand that the police would never call with such a request.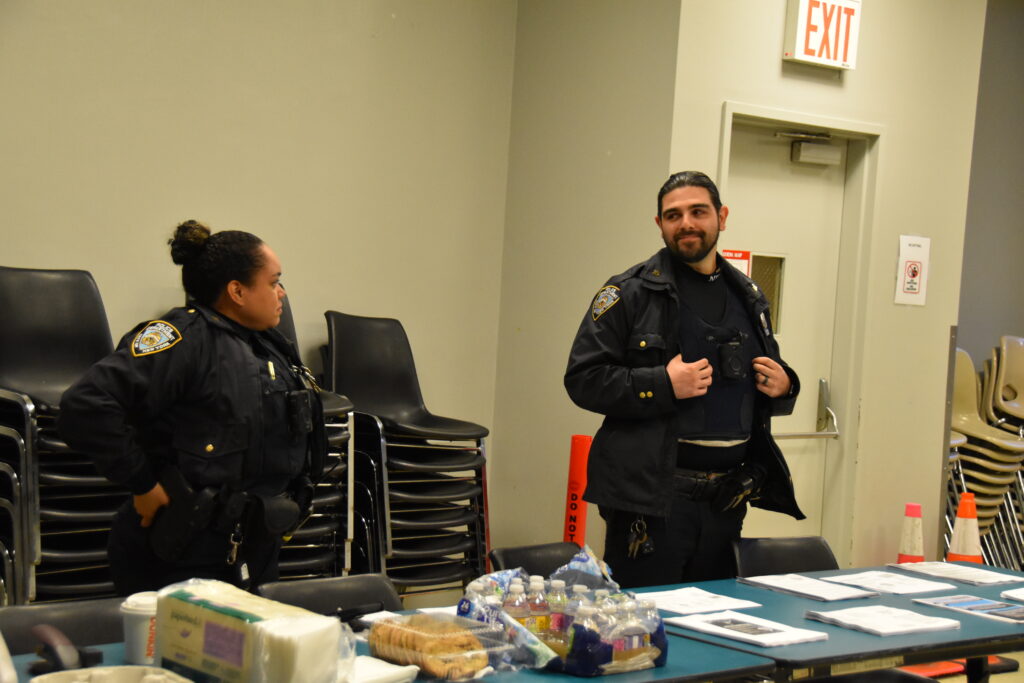 "It's a heightened situation and I guess if you're if your mind is clouded with fear and you're thinking I just want to make sure this person is alright. The case may be because sometimes they'll blackmail you. They're trying to ransom you," Detective Caceres said.
Detective Caceres added that scams like this can also occur in person. One example, she explained, takes place at a local bank or ATM. This scheme is conducted by two perpetrators, one who taps a victim on their shoulder and says you've dropped $20 (the suspect usually placed money on the floor), while the person is bent over picking up the money a second individual comes and steals the ATM card that is in the machine.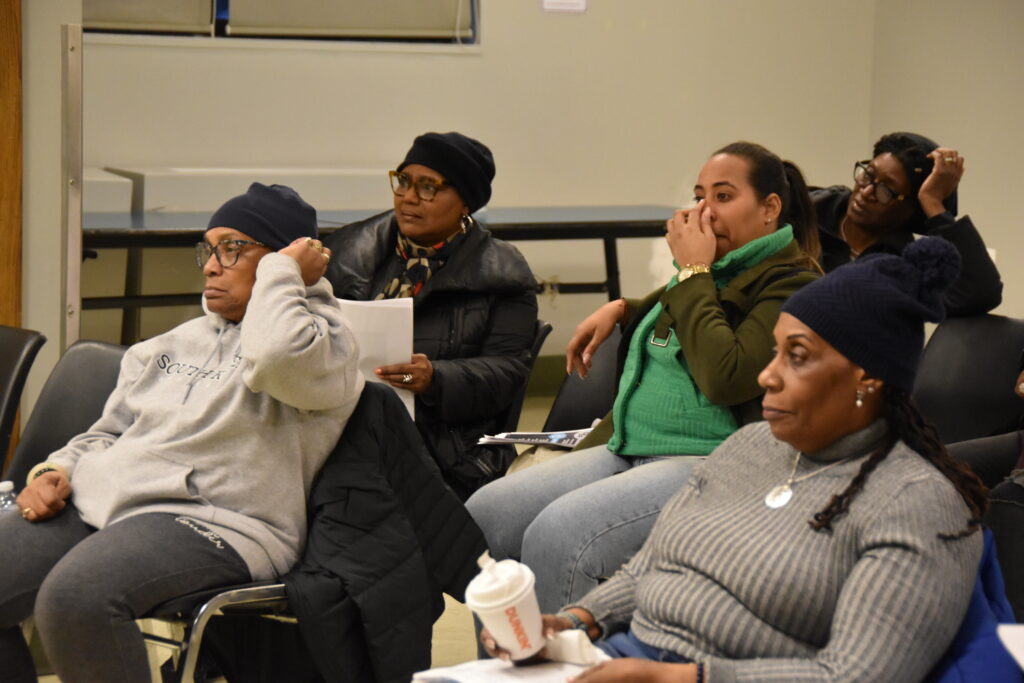 The meeting also went on to discuss concerns regarding crime, such as package theft, and various scenarios of how to address this. The members of the NYPD stressed that if possible, having packages delivered when residents are home but if you can't, maybe have a friendly neighbor keep an eye out for you.
If you are interested in joining the discussion about issues in your community, visit https://www.nyc.gov/site/nypd/bureaus/patrol/find-your-meeting.page to find out when and where the next neighborhood meeting will be held.
Photos by Amanda Moses