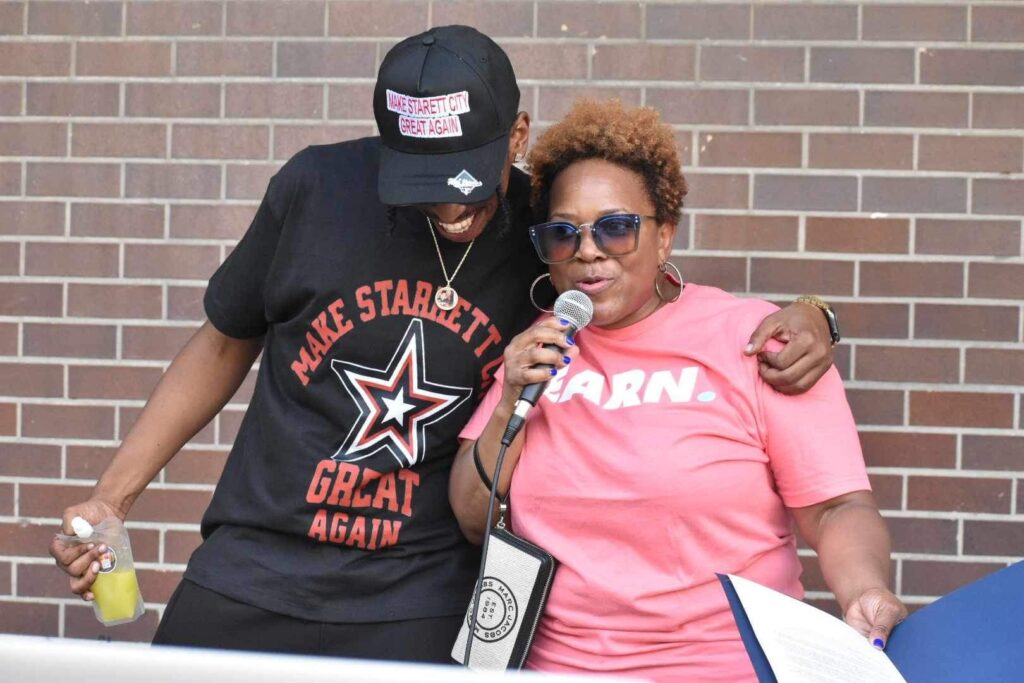 By: Pamela Stern
On Sunday, August 27th Spring Creek Towers (SCT) residents were treated to a street festival that ran in conjunction with the Starrett City Tenants Association (SCTA) flea market that is located the parking lot of the Spring Creek Shopping Center near the Twin Pines Management offices. SCT resident Dizzy Brown partnered with local businesses to treat the SCT community to this fun filled event. This event embraced small businesses, fostered solidarity, while giving back to the SCT community that Brown calls home.
This festival did not charge admission to enter and food was available to purchase. Approximately 300-500 people attended which worked out nicely since the weather cooperated and was bright and sunny out. Sisters with Purpose was there and they gave out over 100 bags of food to attendees. This event had 50 vendors on hand. A live DJ played a variety of music and was broadcasting live on Iheart radio (radio rap and lounge). There was something foe everyone, young and older participants were thrilled by the music, booths and vendors. The children were entertained by The Docta Gela puppet show, and dance challenges.
There was a dedicated area called "The Club 60 and Up" which made services available so that seniors would have VIP access to receive water, snacks, food, manicures, haircuts, massages, and giveaways all for free.
A special area was dedicated to a selection of small Black businesses that displayed stylish clothing, accessories, innovative artwork, herbal care and cuisine.
Assemblywoman Nikki Lucas attended the event, and honored Dizzy Brown with a Citation from the New York Assembly recognizing his outstanding community contributions.
"This festival united our diverse society under one banner, leaving a sense of camaraderie, a deep appreciation for community bonds, the vibrancy spirit of entrepreneurship, and the shared belief in a brighter future," said Brown.
Photos courtesy of: Randy G