Inspection Residents of G9 Updated

G9 Annual Unit Inspections will occur February 6, 2023 – February 10, 2023
Our Apartment Inspector Hakeem Johnson will conduct these unit inspections by knocking
on all doors.
Floor and Date schedule as follows:
 17th through 14th floors on February 6
 13th through 10th floors on February 7
 9th through 6th floors on February 9
 5th through 1st floors on February 10
In the event you are unavailable during the above schedule please contact the Call Center at
718‐240‐4646 to schedule your appointment for the Annual Inspection.
Scheduled appointment times are:
 Monday and Friday between 9:00am – 5:00pm
 Evening hours available on Tuesdays and Thursday between 9:00am – 7:00pm
 Saturday hours are 10‐1 on February 11
Generally, an inspection should take approximately 10‐20 minutes per apartment.
As an occupancy requirement it is mandatory that you complete your annual inspection.
Once your Annual Inspection appointment is scheduled, please make certain a responsible
adult over age 18 years old is able to provide access. If you have a service animal, please
make sure to keep the animal is leashed. Please ensure all bedroom doors and closet doors
are open at time of inspection.
Thank you for your cooperation.
Management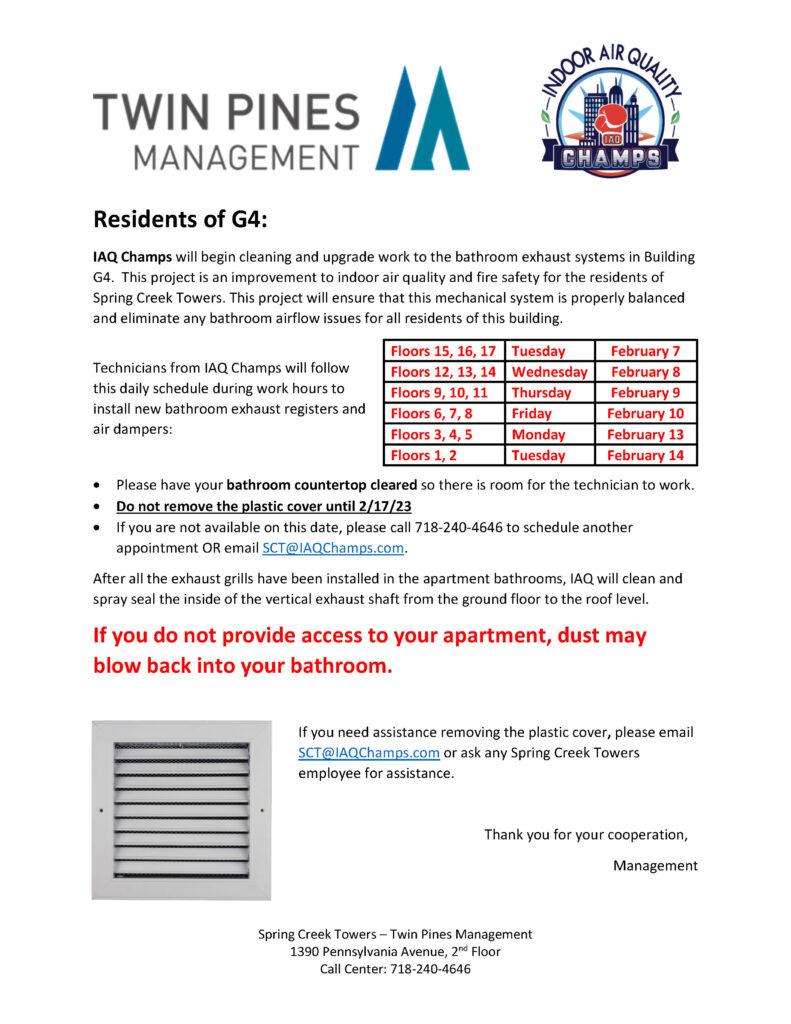 G7 Convector Maintenance

Dear G7 Residents,
In an effort to improve the efficiency of the convectors in
your apartment, our team will be performing preventive
maintenance along with a filter change during a scheduled
visit.

Please call the Call Center at 718-240-4646 to schedule an
appointment. We will be in your building
Monday through Friday 8:30AM – 4:00PM
February 6th till February 17,2023
If you have already had your convector service in the past
12 months, please do not call to schedule a repeat visit this
year.

We kindly ask that you provide clearance around the
convector so that our technician has space to work. Please
wear a mask and social distance during the service visit.
Thank you for your cooperation while we work on these
necessary improvements.
SCT Management
G10 Annual Unit Inspections
Dear Residents of G10
Updated
G10 Annual Unit Inspections will occur February 13, 2023 – February 17, 2023
Our Apartment Inspector Hakeem Johnson will conduct these unit inspections by knocking
on all doors.
Floor and Date schedule as follows:
➢ 17th through 14th floors on February 13
➢ 13th through 10th floors on February 14
➢ 9th through 6th floors on February 16
➢ 5th through 1st floors on February 17

In the event you are unavailable during the above schedule please contact the Call Center at
718-240-4646 to schedule your appointment for the Annual Inspection.
Scheduled appointment times are:
• Monday and Friday between 9:00am – 5:00pm
• Evening hours available on Tuesdays and Thursday between 9:00am – 7:00pm
• Saturday hours are 10-1 on February 18
Generally, an inspection should take approximately 10-20 minutes per apartment.
As an occupancy requirement it is mandatory that you complete your annual inspection.
Once your Annual Inspection appointment is scheduled, please make certain a responsible
adult over age 18 years old is able to provide access. If you have a service animal, please
make sure to keep the animal is leashed. Please ensure all bedroom doors and closet doors
are open at time of inspection.
Thank you for your cooperation.
Management
G3 Exhaust Shaft Refurbishment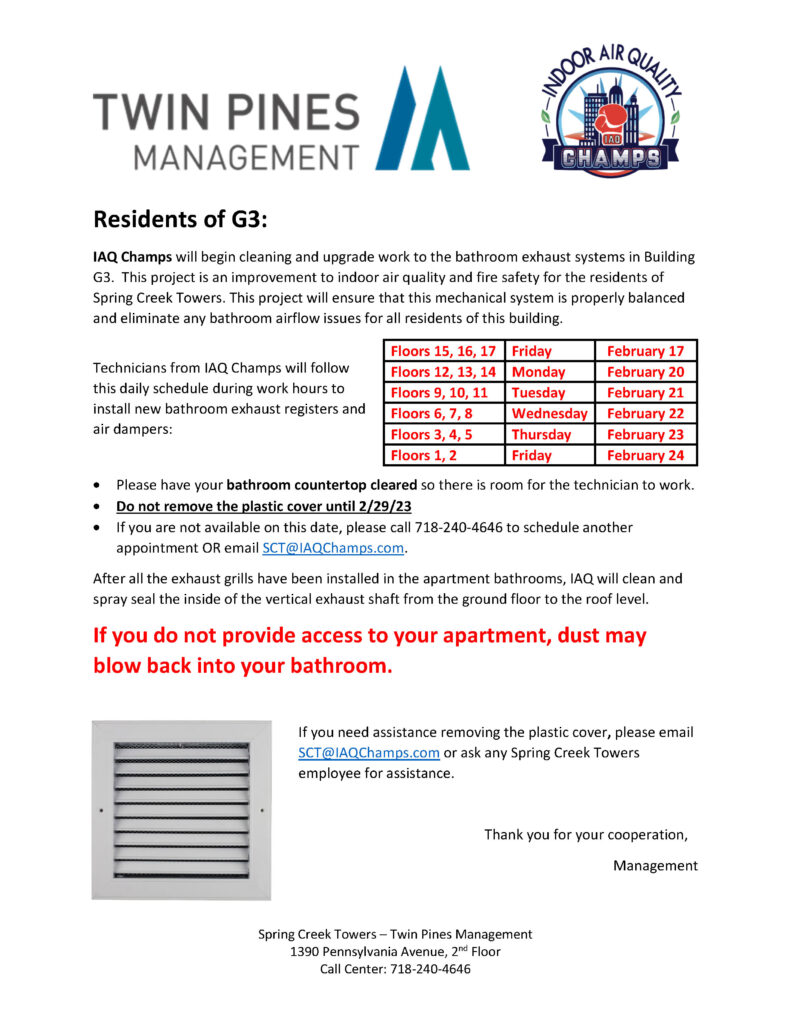 D Section Water Interruption
Attention Residents of D Section (D1, D2 & D3)
Due to scheduled repairs needed, Domestic Water
to all buildings listed above will be temporarily shut
down. Repairs will take place on Thursday,
February 16th beginning at 4am with expected
completion by 6am.
We apologize for this inconvenience and appreciate your cooperation
as we make these repairs. Additional updates will follow once work has
been completed.
SCT Management
E2 -Extermination of Ghost Ants
Our Exterminator will visit your building on the following date:
Saturday February 18th, 2023 between the hours of 9am-4pm
Please remove all items from under your kitchen sinks and bathroom
vanities for a thorough follow up extermination. In the event you are
unavailable to personally provide access you may have someone over
age 18 years old substitute your position. It is imperative that we
service each residence in order for service to be effective. Please reach
out to our Call Center at 718-240-4646 to reschedule your
extermination, if necessary, but please make every attempt to have
someone present on the above date. We thank you for your cooperation
and look forward to assisting you.
Spring Creek Towers
Management